Learning Life Lessons on the Job
There was more than one way to make ends meet for this young man.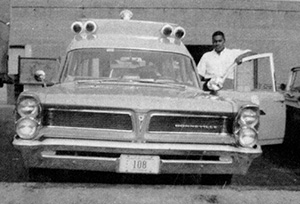 I relocated from Pittsburgh to Washington, D.C., at age 18 in 1962 to attend college. This decision required that I find employment to help defray my education expenses. One of my employment opportunities was serving as a summer intern ambulance driver for the nowdefunct D.C. General Hospital.
I joined a group of mature, predominantly African-American gentlemen, ranging in age from around 30 to 60 years old. They nicknamed me Youngblood and were very impressed that I could successfully hold my own while lifting the heaviest of patients onto a stretcher (one patient weighed over 400 pounds).
These workers had survived the school of hard knocks and restricted opportunities in order to earn an honest living and care for their families. The ambulance crew numbered around 20. Many of the drivers supplemented their primary income by driving taxicabs at night and/or on weekends.
The ambulance driver job required transporting patients to and from private homes and to and from D.C. General Hospital and other institutions such as Little Sisters of the Poor, D.C. Village, St. Elizabeth Hospital and the D.C. jail. My partner and I were assigned a newly acquired 1963 Pontiac Bonneville ambulance. We kept this outstanding vehicle clean and shiny.
What I learned to appreciate about these men was their commitment to providing safe, pleasant and courteous care and service for patients who were often fragile, ill and frequently disabled. Furthermore, most were economically challenged and surviving on public assistance. Even though they were in poor health, many looked forward to our arrival because these outings were the highlight of their day. The drivers humored them, did favors for them, and helped them walk or lifted them onto stretchers. Overall, we tried to lighten and brighten their day as they pursued medical treatments, tests and rehabilitation therapy.
The patients we transported provided me with valuable lessons about the fragility and unpredictability of life. For example, one lady suffered a severe back injury when the elevator she was riding on alone dropped several floors and crash-landed. Another lady was at a social affair mingling with other guests on the second-floor back porch when the railing collapsed and she fell to the ground, seriously injuring her spine. A gentleman who had driven a truck for many years lost both his legs as they were amputated due to poor circulation.
These personal stories and many others of a similar vein educated me at a very young age not to take life for granted. In addition, those hardworking, caring and ambitious men I worked with impressed upon me that kindness and thoughtfulness can be so uplifting to others.
I came to view these men as heroes. Their day-to-day struggles to execute their job, keep their taxi in good repair, raise their children, pay their bills and help their parents did not keep them from eagerly pleasing and caring for their patients. They graciously entertained and brought smiles to those less fortunate than themselves.
I did not have a father figure in my early life, but these wonderful gentlemen showed me examples of quality manhood. My 80th birthday will happen this year, yet I still vividly remember these wonderful gentlemen, and I treasure these precious memories of the time I spent with them.